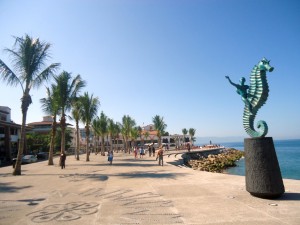 Casa Corona is located in the heart of downtown Puerto Vallarta. Most don't even know the hidden paradise exists behind the casa's wooden doors, making it a very safe and secluded location with trusting neighbors. Just a quick walk of three blocks and you're at the beach with your feet in the sand or walking along the famous Malecon (boardwalk). Just across the street from the Villa is a small shop run by Rosa, she makes delicious fresh-squeezed orange juice daily and has become a favorite of Casa Corona guests.
Within a several block radius you will find everything from authentic Mexican cuisine, delicious street taco's, five star dining, fine shopping and local markets. OXXO stores (convenience store) are found every few blocks throughout downtown PV, an added convenience for last minute items such as basic groceries, beer, ice and non-alcoholic beverages. Trusted, local banks and ATM's are just a short walk away to the town-square where you can pick up a Starbucks coffee or even a Mcdonalds Big Mac while you're there. You will have an authentic mexican experience while still having all of the tourist attractions nearby to experience as well such as sand sculptures, local artisans, spinners called "Voledares" just to name a few.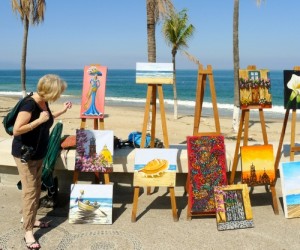 Three blocks from the villa is the new Malecon with trendy shops, restaurants and nightlife. All along the Malecon you will experience different street performers, including Xaime the mouth painter – many of Xaime's pieces are displayed at Casa Corona. Jaimx has no hands, he paints with his feet. We encourage guests to see the inspiring process (usually in cool mornings) and beautiful art he creates. Puerto Vallarta is well-known for it's artists and galleries, the Malecon is host to "The ArtWalk" which is held October-May showcasing many featured artists of all facets.