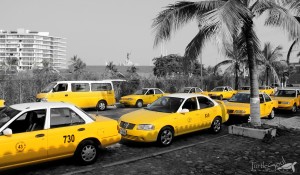 Getting to the casa to and from the airport is a quick car ride of about 15 minutes, usually by taxi or through a licensed car service we recommend and use with most of our guests. Transportation is not hard to find.
Taxi cabs are everywhere you look and charge $40-$70 pesos around town. Taxi fares are charged by zone. See Taxi Zone Map or pick one up upon arrival at the airport.
Public transportation (bus) is safe, clean and affordable. Bus stops are located throughout PV, blue and white buses travel in town, green buses take you out of town, fare is $7.5 pesos.
Our property managers assure to discuss the entire process & provide known and valuable resources to make your vacation a relaxing one.
Taxi's in Puerto Vallarta Source: visitpuertovallarta.com
Getting around Puerto Vallarta is fast, easy and economical using the yellow taxis that you see all over our city streets.
Taxis in Puerto Vallarta are a safe way to travel the city and most taxi drivers in Vallarta speak at least a little English and are happy to point out the sights or give you advice about things to do and places to see while you're visiting.
Here are a few quick tips to taking taxis in Puerto Vallarta:
1. There are two kinds of taxis in Vallarta: Airport taxis and City taxis. Only airport taxis are permitted to take passengers out of the Puerto Vallarta International Airport (PVR) and a subject to an airport tax.  However, city taxis are able to return you to the airport with no additional tariffs.
2. Taxis are not metered in the city and fares are determined by zones. Almost all hotels will have zone rates posted in or around their motor court and you should verify with your driver prior to heading off to your destination.
3. Taxi drivers often don't have a lot of change so make sure that you have small bills, either Mexican pesos or American dollars (but not American coins).
4. Tipping taxi drivers in Mexico is not customary but if your driver provides additional service, ie. helping with your bags or luggage, waiting for you at your destination or just offering particularly friendly or helpful service, a small tip is appropriate and appreciated.
With fares starting at just $40 pesos, taking taxis in Puerto Vallarta is a great way of getting around and exploring the city.