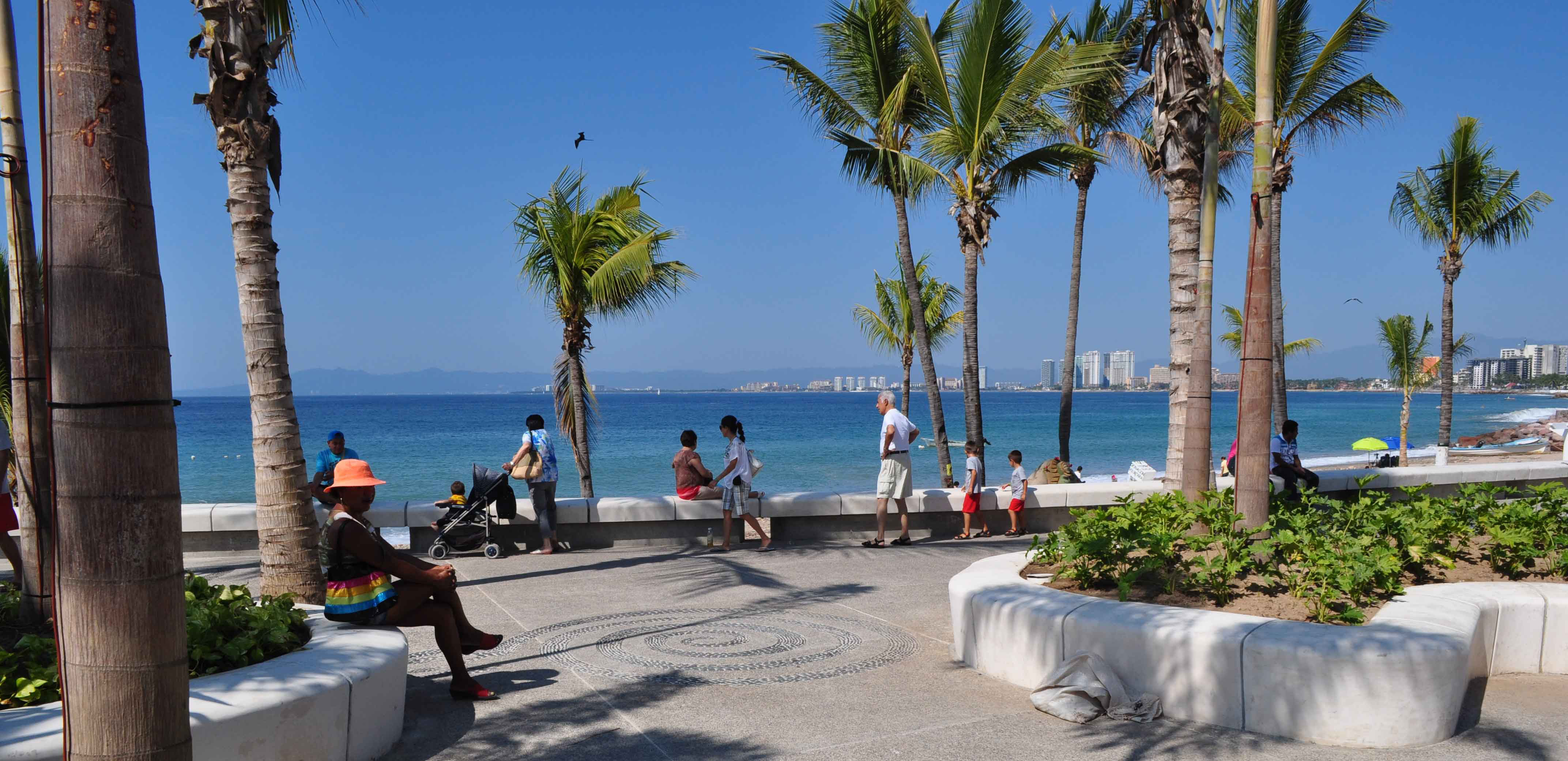 Quite simply, there is no place on earth so remarkably lively yet so enduringly lovely as Puerto Vallarta. Here, where the majestic Sierra Madre Mountains meet the magical waters of Banderas Bay (Mexico's largest natural bay), vacationers can explore and enjoy Hacienda-style colonial charm, outdoor activities and intimate accommodations unparalleled on the fabled Mexican Riviera.
Puerto Vallarta was a sleepy fishing village, untouched by events on the other side of the surrounding jungle-covered mountains. In the 1500's Spanish explorers passed through this region, and local legend spin tales about pirates sailing the Pacific often sought refuge in Banderas Bay. Not until the mid 1800's that the land along the Cuale River was settled. And the town wasn't officially named (after a distinguished member of congress who contributed greatly to the Mexican Constitution) until 1918.
Puerto Vallarta slumbered peacefully for nearly 50 years. Then in 1964, famed Hollywood director John Huston arrived to film Tennessee William's "The Night of the Iguana." The movie's star, Richard Burton, was joined on location by Elizabeth Taylor, and the glamorous couple's torrid love affair made headlines worldwide. Overnight, Puerto Vallarta was ignited with mystique and romanticism.
Since then, much has changed in Puerto Vallarta. It is now a bustling cosmopolitan beach resort of some 350,000 residents, attracting over 2 and a half million tourists annually. Yet despite its dynamic growth into a sophisticated vacation destination, Puerto Vallarta remains remarkably unspoiled. Indeed, "Old Mexico" awaits around every corner.
Cobblestone streets wind past white stucco colonial homes draped in bougainvillea and adorned with wrought-iron balconies. In the first light of dawn, roosters crow in the hills above town, while the bells of the Church of Guadalupe (its steeple is a replica of the crown worn by Carlota, empress of Mexico in the 1860's) summon the faithful to worship. And everywhere there are warm smiles and friendly "holas" extended to newcomers.
Twenty four hours a day Puerto Vallarta brims with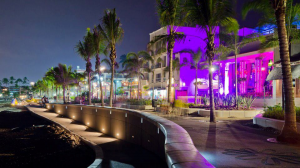 delightful ways to savor Mexico at its very best. For visitors intent on shopping, dozens of chic boutiques and souvenir shops offer hours of purchasing pleasure. Don't miss the bustling indoor-outdoor municipal mercado located along the banks of the Cuale River. With a reputation of being among Mexico's emerging art centers, Puerto Vallarta boasts numerous galleries offering fine arts and exquisite handicrafts. For discriminating palates, Puerto Vallarta's multitude of fine restaurants serves a bounty of international cuisines. And for those with an appetite for nightlife, Puerto Vallarta's nightclubs and discos are the toast of all Mexico.
Year round sunshine, 26 miles of silky soft beaches and surrounding lush tropical mountains combine to make Puerto Vallarta a paradise for those who prefer their vacations active. Deep-sea fishing. Windsurfing. Snorkeling. Golf. Tennis. Hiking. Horseback riding. Jungle excursions. Whale Watching. Swimming with dolphins. Catamaran cruises. All these – and much more – await visitors to Mexico's uncontested capital of outdoors enjoyment.
Moreover, getting around in Puerto Vallarta just gets easier and easier. A four- lane highway leads straight from the airport into the center of town. And, Puerto Vallarta has a team of friendly, bilingual tourism officers who have been assigned to respond to the needs and questions of visitors. Whether it's directions to "Gringo Gulch" or a tip on where to find Michoacan masks, these officers in their white safari uniforms are ready to help. It's just another example of this charming town's commitment to tourism.
Puerto Vallarta Geography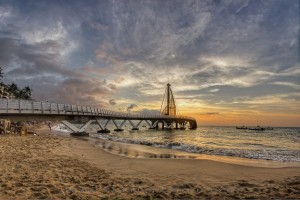 Puerto Vallarta is located in Mexico's state of Jalisco, on the Western Pacific coast. It is nestled on the shores of the second largest bay in the Americas, "Banderas Bay", known for its great beauty, uncharted depths and profusion of marine life. The many miles of semi-virgin beaches that line the bay feature wide stretches of smooth sand met by the tranquil azure waters of the Pacific.
To the East, the majestic Sierra Madre Mountains rise up. Covered with abundant tropical vegetation, they form a spectacular setting along with providing a natural barrier against seasonal storms. Here, the warm rays of the sun shine year round in a privileged tropical climate which boasts average annual temperatures of 26 ° C (78° F).
Puerto Vallarta Ecological Surroundings
The expanse of beaches surrounding the Bay and the immense mountains to the East provide the natural boundaries for this ecological paradise. This fertile region is a diverse biosphere, rich in plant and marine life. The presence of marine species such as dolphins, sea turtles and humpback whales add to the other natural attractions of Puerto Vallarta.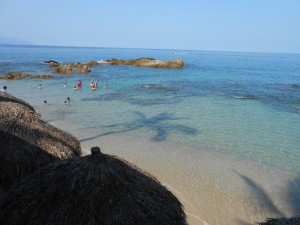 A special program is in place here to protect and preserve the sea turtles that return each year to reproduce. Dedicated nurseries are located on the beachfronts of several major hotels, providing protection from predators for incubating eggs. Between July and January, guests can see the baby turtles hatch and watch them as they make their first journey out to sea.
Visitors may also witness the spectacular humpback whales that return to these waters every winter to breed. It is not uncommon to see them in front of the malecon – the main waterfront street downtown – breaching out of the water or splashing their grand tail. It is as if they are playing to Vallarta's guests or in celebration of this natural sanctuary.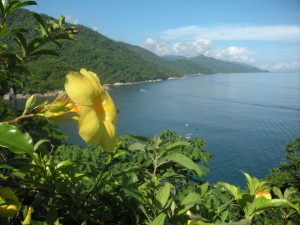 The mountain foothills and valley are rich with exotic vegetation: palms, cacti, and an abundance of tropical flowers. Bird watching is a pastime growing in popularity, along with sighting other exotic species. Key among them is the iguana, which Puerto Vallarta is so well known for.
Today, a growing number of ecologically oriented day trips and overnight excursions are drawing a different type of traveler to Puerto Vallarta. Visits to the mountain towns of San Sebastian, Talpa de Allende and Mascota are all make for a fascinating side trip, and are easily accessible from Puerto Vallarta.
Puerto Vallarta Art and Culture
Art is growing as Vallarta's favorite pastime as the growing number of galleries and studios will attest to. During the winter tourist season, each weekend is punctuated by openings of art exhibitions featuring Mexico's finest contemporary artists. Numerous galleries feature respected local artists, Mexican masters and one of the widest selections of indigenous art, especially that created by the Huichol Indians of the high Sierra. Exhibitions are also featured regularly at City Hall.
The Rio Cuale Museum showcases an impressive collection of archeological pieces found in the area. For those with an interest in the past, recent digs have uncovered a rich cache of archeological treasures in the nearby community of Ixtapa. Traveling south, one can connect to the ancient residents of the Bay of Banderas through the stone carvings, or petroglyphs seen in the Valley of Tomatlan. Near Tepic, there is a large stone with impressive markings including that of the ancient Patoli game, believed by some to be an oracular link between the players and the spiritual world.
Puerto Vallarta Activities and Entertainment
There are a multitude of recreational offerings available here for visitors. Water sports rule, with options including diving, snorkeling, windsurfing, sailing, sport fishing, water skiing or simply cruising the bay. The small seaside villages of Las Animas, Quimixto and Yelapa remain accessible only by boat and are an oasis of tranquility with mountain waterfalls and palapa beachfront restaurants. The pristine Marietas Islands—recently declared a natural wildlife preserve—are home to over 80 marine birds and are a dazzling spot for diving.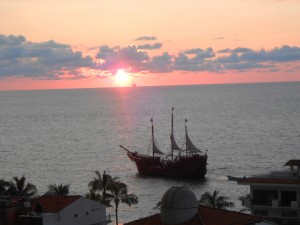 On land, Puerto Vallarta is becoming known as a stellar golf destination. In addition to the Marina Vallarta Golf Course, the new Vista Vallarta course was the site of the 2002 PGA World Cup Championship, and the Jack Nicklaus Signature Course at Punta Mita continues to earn rave reviews as being among the most stunning courses in the world. Horseback riding (including botanical tours), mountain biking or hiking in the Sierra foothills are a few of the naturally beautiful ways to get out and explore the surrounding areas. Or for something different, try swimming with dolphins or bungee jumping down a spectacular cliff above aquamarine water below!
The rapid and well-planned growth of tourism infrastructure, the quality of services and the genuine hospitality of the people have enhanced the region's natural attractions to make Puerto Vallarta one of the favorite tourist destinations in the world.
The most notable feature of Puerto Vallarta is perhaps its natural hospitality — the friendliness and simplicity of its people. Their genuine warmth and welcoming spirit makes every visitor feel as if they are at home, in this most traditional of Mexican resorts!