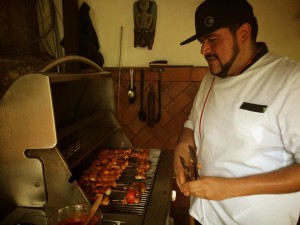 Chef Jonathon, aka "Monster" is a favorite Mexican chef of all the clients. One must experience his dishes for that true, authentic Mexican cuisine. After studying and residing in Los Angeles, CA; Jonathon returned to his home in Puerto Vallarta to continue his passion in culinary. He speaks perfect English and provides an amazing dining experience. Weather you are interested in a formal or casual meal, Mexican, American or otherwise he will cater to your desires. You provide the meal choice, or he will make personal recommendations. Jonathon will do all the grocery shopping to prepare your gourmet meal in whatever setting you choose. Appetizers pool-side, or dinner on the roof-top terrace at sunset. Regardless of your mood, you are sure not to forget his master culinary skills anytime soon. We personally recommend to each of our guests to experience Chef Jonathon at-least once. You won't regret it.
See detailed pricing below & "How it Works"




















HOW IT WORKS…
Chef Jonathon's services cost average $20-50 per person, per day, depending on meal choice. (+ cost of groceries) for 2 full meals.
Chef Jonathon does all of the grocery shopping, meal preparation and clean up.
PRICING: Prices are based in USD and are PER PERSON. Does NOT include ALCOHOL OR TIP. Children under 12 EAT FREE.
Minimum 6 persons
Breakfast $25  USD per person         Total $ 150.00 USD
Dinner     $45  USD  per person         Total $ 270.00 USD
Two Full Meals: Total $ $420.00 USD
Daily Kitchen Fee CC $25 USD
7 – 12 persons
Breakfast $20 USD per person       –
Dinner      $40 USD per person
Daily Kitchen Fee CC  $50 USD
FULL Breakfast:  Continental/American/ Mexican
Dinners Include:  Appetizer, soup or salad, main course (fish, beef, chicken or seafood) and dessert.
For clients wishing a package meal plan ie: 3 Breakfasts/3 dinners during their stay (up to  2 weeks max)  Price of $55.00 USD per person applies.
For weddings, events, special occasions and special requests please consult with Property Manager Emma Cobb for rates
When booking your stay, select "Private Chef" under Optional Services, this alerts us that you are interested in the chef services.
Prior to your arrival, our property manager will be in touch with you to confirm extra services you are interested in and make all of the arrangements to assure you have the most comfortable stay possible. *You must notify the property manager prior to your stay if you are interested in private chef services. 
Communicate with the property manager what day(s) you would like to reserve the chef, and your meal choice(s). We can give recommendations of popular dishes or you can create your own menu.